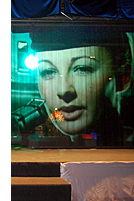 Water Screens
For over a decade, AVS has custom produced hundreds of Water Screen presentation shows, and captivated thousands of audiences worldwide, all left with an unforgettable lifetime experience.
Our state of the art fan-shaped outdoor water screens can reach heights of 60 feet and widths of 150 feet. Our screens are comprised of minuscule, nearly invisible water drops onto which animated video projections are beamed using our powerful projectors. Images appear as if they are formed out of thin air and assume the screen's fluidity as they float above the water, submerging the viewers in the ambiance and flooding them with exhilaration.
For indoor environments, AVS offers its high-end Water Curtain systems that are available in increments of 10 feet in width and can be extended as wide as needed, creating the same magical effect.